Compared to regular commercial PSUs, medical power supplies must meet stricter safety standards and last longer.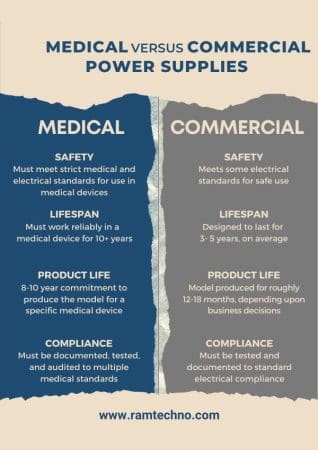 When it comes to medical versus commercial power supplies, here are the key differences you need to know:
Safety
Medical power supplies must meet strict medical and electrical standards for use in medical devices. Commercial power supplies meet some electrical standards for safe use, but not as many.
Lifespan
Power supplies for medical devices must work reliably for 10+ years. Commercial power supplies last for 3-5 years on average.
Product Life
Manufacturers have an 8-10 year commitment to produce a power supply model for a specific medical device. With commercial power supplies, models are produced for roughly 12-18 months, depending on certain business decisions.
Compliance
To be compliant, medical device power supplies are documented, tested, and audited to multiple medical standards. Commercial power supplies only need to meet requirements for standard electrical compliance.
________________________
RAM Technologies certified medical power supplies meet EN 60601-1 standards. We also have an MTBF of greater than 500,000. Plus, we produce your models for as long as you need them. Contact us for details.
Subscribe to the RAM Technologies Blog